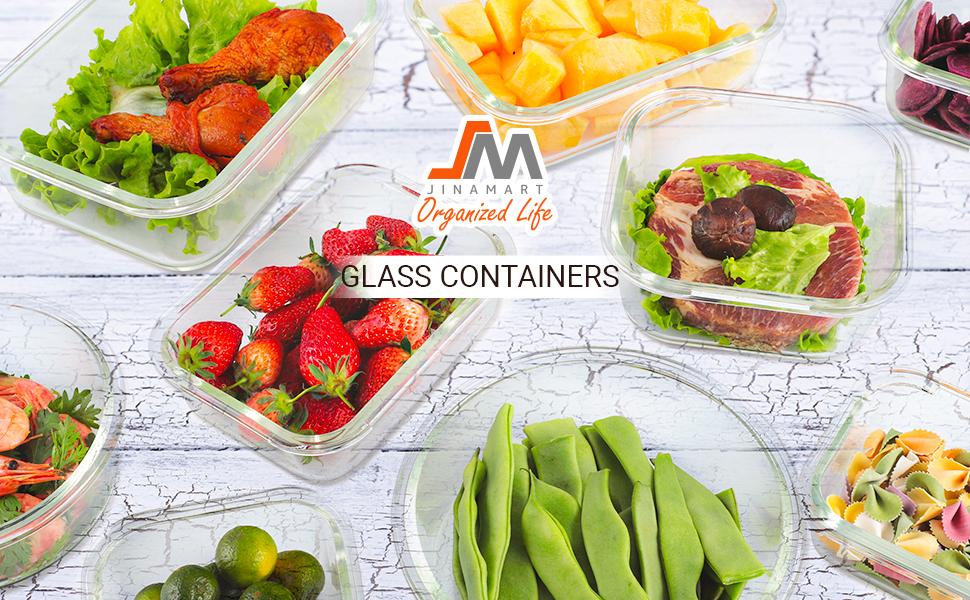 Where to Buy the Best Glass Food Storage Containers
It can be a real struggle to find the perfect glass food storage containers. The perfect glass food storage container includes modern designs and high-quality materials. At times your glass food storage container may leak the items inside or may not be airtight, leading to waste of food. Such hectic can  not be afforded on a daily basis, hence, Jinamart provides the ultimate solution to all such problems.
It can be challenging to find the most durable BPA-free Food Storage glass lock containers with modern designs, but it's time to stop finding the right brand because Jinamart is ready to deliver the best durable glass containers to preserve your food. With durable glass and 100% BPA-free plastic lids, Jinamart ensures to prioritize your health. A locking plastic lid is perfect to prevent leaks and spills because we don't want to increase your work. You can use this set in a microwave, freezer, preheated oven, and dishwasher as well. Made of high-quality glass with smooth and beautiful BPA-free plastic Lids, our containers are strong, smooth, and long-lasting, use these every day for a better and easier life. Our lids are Easy open-and-close lids, that are leakproof, ensuring you can take your snacks with you while travelling.
Jinamart's glass lock containers are really times saving. You can cook your food right in glass storage containers and then save and reheat the leftovers. Moreover glass food storage containersr, you must hate it when your food spoils faster than when you have a chance to eat it in your glass food containers. Jinamart's glass food containers are designed to be leak-proof and airtight. Jinamart glass food containers with lids ensure that your food remains fresh and edible for a longer period. The innovative 4-sided lock lids and powerful airtight seals are game-changers for storing your food in your glass food storage containers the right way!
You don't have time for unnecessary spills and messes, and that's why Jinamart has designed its glass food storage containers with an innovative air-tight seal and smart locking lids to prevent any liquids or juices from leaking out from your bento lunch boxes— guaranteed!
That is not all! The glass storage containers with lids for food are made of high-quality Borosilicate Glass that can handle sudden temperature changes from -4° Fahrenheit to 450° Fahrenheit without breakage. You are recommended to clean the lids through hand wash, whilst the leakproof glass lunch container can be cleaned in the dishwasher on either top or bottom rack. Are you still confused about the difficulty of closing the snap? This glass container for food storage comes with lids that are very easy to close or open, you don't need to leave the table and hold it by hand and then close it, only need five fingers to close the glass container for lunch tightly.
 If you receive a cracked glass container, you can always contact Jinamart's customer service. Jinamart will provide the best solution to refund or resend a new pack of containers within only 24 hours. 
To sum it up, Jinamart focuses on making its customers live ten times easier and more convenient than ever. And to do so, it ensures that no compromise is made on quality of the product and it can perform all modern functions. Moreover, Jinamart has made the product affordable, and has easy to use. It ensures that the customers receive one hundred percent satisfaction, and that they are pleased with their products. Jinamart supplies the best products in the market, so look no further as you can receive the best premium products on your doorstep by ordering from here. So waste no more time, and avail these products, before they are out of stock.
Hopefully, this blog answered all your queries, and now you know where to buy glass food storage containers.