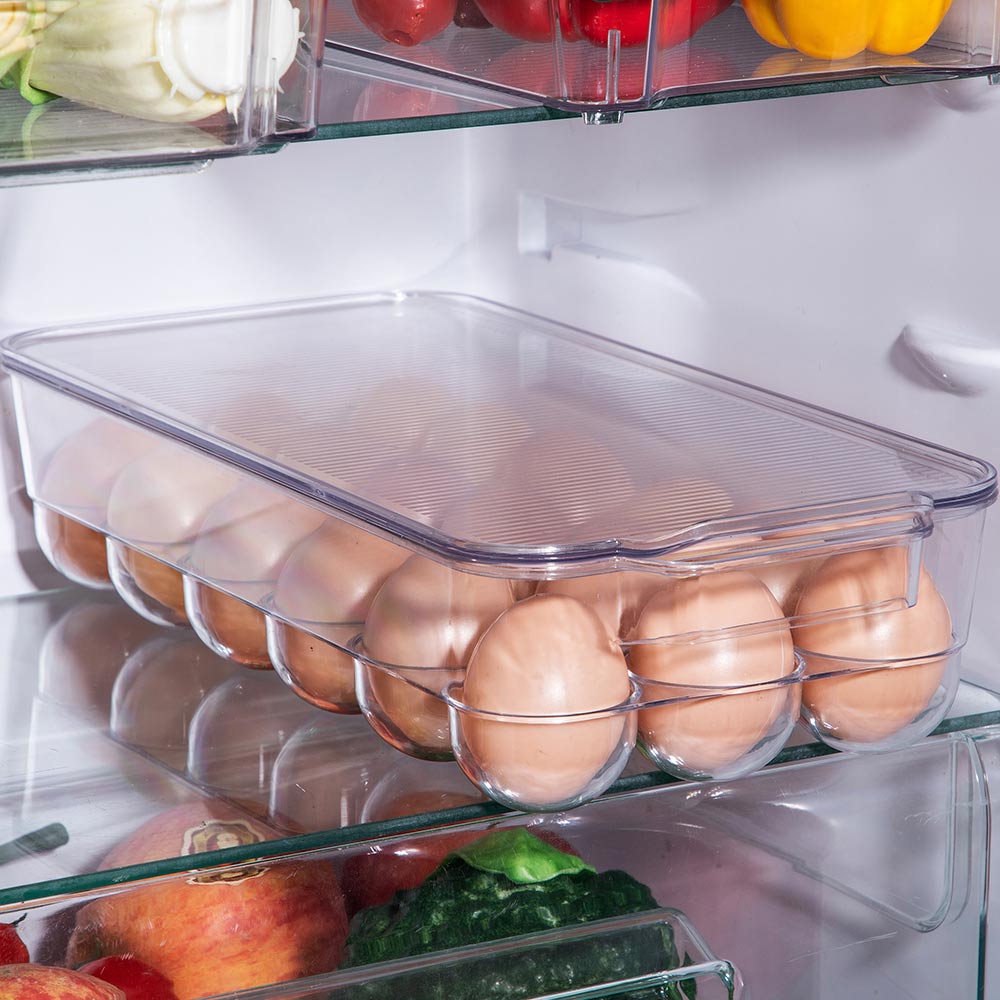 Where to buy a Fridge Bin Egg Holder For 18 Eggs
Tired of your messy fridge? Looking for a Fridge Bin Egg Holder For 18 Eggs? Look no further as Jinamart provides you with some of the best fridge bin egg holders out there. Our fridge organizer is BPA-free and is made of premium quality plastic. It is completely shatter-proof and durable. These egg holders are cost-effective and designed specifically to hold both; food and drinks. What makes it special is that, due to being BPA-free, it can store food without causing any harm, prioritizing your health. Moreover, these fridge bin egg holders are spacious, and it is easy to store and manage small items almost anywhere. Ideal for all small places for making a good space. Another brilliant feature enables it to be put on pantry shelves, drawers, cabinets and countertops. Our fridge egg holder is the perfect investment to ensure that your fridge looks neat and clean.
Jinamart's Fridge egg holder keeps up to 18 eggs safe and fresh in your fridge. It is the ideal investment to make your fridge look more neat and clean, and keep the fridge organized. The Fridge Bin Egg Holder For 18 Eggs lids are made of BPA-free plastic and are easy to clean and use as well. Buy Jinamart's Fridge Bin Egg Holder and organize your fridge, save yourself from wasting time and making extra effort. It can make your life ten times easier, keep your fridge organized at all times, and save you extra time and effort. This egg holder is made of high-quality material and is durable. You can use it roughly, and the egg holder will astonish you with how sturdy it is. The fridge bin egg holder is also transparent, allowing you to see through the tray. It also allows you to put in or store other essentials other than eggs.
Upgrade your kitchen storage with the Jinamart Fridge Bin Egg Holder. This organizer is designed with a removable, transparent lid that protects eggs from cracking or breaking and provides visibility into the organizer; so you know when it is time to stock up again. The integrated front handle allows quick access and easy reorganization, and the separated sections keep eggs in place while moving the bin. The versatile design can be stacked with additional Fridge Bins (sold separately) to maximize storage space. It is made with durable clear and white BPA-free plastic, this refrigerator organizer stands up to everyday use and is easy to clean with mild soap and water.
Jinamart is one of the finest stores in the whole market and provides the best service and customer satisfaction to its customers. It does not compromise on the quality of its products and ensures that the customers are more than happy with the service they receive. In case you do not get your desired product, or if the product you receive is damaged in any way, you can always contact the Jinamart support team, who are always available to help you out as soon as possible. The product can be refunded or exchanged if your request is valid. You can always trust the Jinamart team to assist you in such critical matters.
So look no more, as Jinamart has provided you with the best option in the whole market. You now know the benefits of the best Fridge bin egg holder and have learned how it solves all your problems. Hence, you can now make an informed decision now, and know how much important this fridge bin egg holder is. It greatly contributes in easing up your life and making it way more convenient. Waste no more time and buy Jinamart's outstanding and cost-effective egg holder right away and keep your fridge organized at all times.